fruitcratelabels.com
"Copyright Notice!"

---
Copyright1998-2007 By Thomas P. Jacobsen
Researched and published solely by
Thomas Patrick Jacobsen - Agrilitholigist -



All rights reserved. The contents of this website are owned exclusively by Thomas P. Jacobsen and fruitcratelabels.com, and all rights thereto are reserved under the Pan American and Universal Copyright Conventions.
No part of this site or its content may be reproduced, recorded or distributed in any form or by any means electronic or mechanical (including photocopy, mimeograph, scanner, fax transmission) or stored in any device, database or retrieval system, transcribed or translated into other languages without prior written consent of the publisher under penalty of applicable copyright laws (Excepting a reviewer who wishes to quote brief passages in connection with a review written for inclusion in a magazine, newspaper or broadcast.)
Some trademarks, service marks and designs included in this publication are owned by other persons or entities, and covered by applicable federal and/or state law, and no reproduction of any such marks or designs, or use thereof in connection with any goods or services is permitted, without the express written consent of the owners thereof, and/or the webmaster.
Other trademarks and images are owned by Thomas P. Jacobsen and are no longer public domain images, having been registered for use on products, in calendars and other publications. The scans used on this site are low resolution scans for web publishing. Some scans may also have embedded identifying marks of ownership, like a watermark. no use of these images by any other party is permitted for any reason, without written instrument from the owner.
---
PILFERAGE:
On the Internet and Web, it is easy for people to steal images, content, text, design elements, meta tags and ANY PART of the html code. As the lawyers and lawmakers make out the details of Net infringement law, we have to wait. However, copyrighted material is still owned by someone. If you steal it, and re-use it without permission, you are subject to legal action and the claimant subject to legal remedy.
If you take images from my site and attempt to use them in any form, and I find out about it, you will be in breach of copyright law, and subject to prosecution or other legal remedy. Steeling an image and changing it, does not make it yours, unless you can show proof of acquisition of the original image.
There are plenty of labels out there for you folks who are looking. I would strongly urge you to avoid trying to abuse the images on this site. In court, you will have to produce your own original copy/label with the image on it. If you can't produce your own original, you may be found liable for damages and infringement according to the damage scales of current copyright law.
*If you really want to use one of the images on my site, why not try asking me, first!?
ACCIDENTAL INFRINGEMENT:
At the same time, if any images are found on this site, which are owned by persons other than me, and I am accidentally infringing without knowing it, please let me know and I will be happy to work something out with you, or remove them from my site. I have no interest in infringing upon anyones copyrighted materials.
LICENSING AGREEMENTS
If you are interested in using Patco images, visit our Digital Trading Company, and read the licensing agreement. Then you may contact me and we can discuss the possibilities. That would be far preferable to risking legal entanglements by pirating this site's content and/or images, wouldn't it. Thanks.
FOR INFO ABOUT REPRODUCTIONS <click here>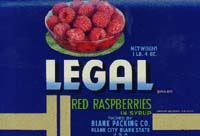 "Fruit Crate Labels .com" [ http://www.fruitcratelabels.com ]
Thomas P. "Pat" Jacobsen -- Agrilitholigist, Proprietor
Post Office Box 791, Weimar, CA, 95736-0791, U.S.A.
Phone/Fax: 530.637.5923 8:00 AM - 5:00 PM, weekdays, (Calif, PDT)
EMAIL: pjacobsen@fruitcratelabels.com
(Page update February 2007)