fruitcratelabels.com
Presents: CHAPTER ONE
"Pat Jacobsen's Collector's Guide To Fruit
Crate Labels"
---
The following is a series of pages taken from my First Book. This is not the whole book's contents, but, rather, some of the information that my on-line friends and visitors might find valuable. All of this information is copyrighted in the books and on this website. You may wish to print it out for your research, which is fine. But, if you find this material helpful, you may just want to buy the book and have all the pictures that illustrate the text! Click Here to buy it. Thanks -- Pat

---
CHAPTER ONE: LABEL HISTORY
INTRODUCTION TO AGRILITHOGRAPHY
Between the early 1880s and today, countless billions of colorfully lithographed paper labels were used to sell fruits and vegetables of all kinds. These labels were used by thousands of farmers, growers, and packing houses of the Pacific Coast and elsewhere, to identify and advertise their wooden boxes of fresh produce. Beginning in southern California, around 1885, the practice of labeling produce-crates for shipment by sea and railroad, rapidly became an industry-wide necessity. Not only did the label identify each individual box of fruit, but, it also had to communicate an appeal for the product, so that someone would buy it. Otherwise, the farmers didn't get paid. This made the label a tool of singular importance to every packer.
EARLY SETTLEMENT IN THE AGRARIAN WEST

Following the California Gold Rush of the 1850s, many early settlers making the trek across the plains from the East, became fruit and vegetable growers. These early pioneers found they had to overcome many problems. Among these, were, the acquisition of land, finding dependable nursery stock, an ample source of water and irrigation equipment, reliable information about growing, building supplies and machinery. All these things were needed to grow and pack not only food for local consumption, but, later, a market-worthy product. Growers would also need other basics, like reliable labor and shipping, trustworthy auction companies, and, of course, a hungry market for their products. By the late 1890s, fruit growers from Arizona to British Columbia, were setting up a new, rapidly expanding industry. New orchards, groves, vineyards and fields were being planted everywhere, shipping thousands of tons a year by sea and rail. These fresh products where shipped from orchards and farms on the Pacific coast, throughout the nation and eventually around the world.
After the fruit was grown and ready to pick, packers needed wooden crates to pack the fruit and vegetables into. This required wood, milling, nails, labels, paste and labor to make the boxes and pack the fruit for shipment. Farmers also needed a fast and suitable railroad transportation system to get their products to all the major cities in the East. Fruits needed to be iced periodically along the route to keep it fresh. It was new industry in a new land, which was created from "scratch," and spawned development of all kinds in many related industries. As sufficient methods of packing, transporting, preserving, and marketing their fresh products were developed, accounting for its sale and paying the grower was the major concern. None of this was easy, and many variables had to be dealt with, one by one.
There were thousands of growers in each of the western states -- Washington, Oregon and California, being the most populated. Each farmer or collective of farmers, broker or marketing agency had its own brand(s) to identify their specific shipments of each different product, and most operated their own packing house. Every year, the market would improve and the numbers of tons and the numbers of labels grew. It became an industry that grew to fantastic proportions in a relatively short time, and is unlike any other chapter of American history. Within a few decades, agriculture, or "Green Gold," became the single most important economic factor of the Pacific States.
As Eastward shipments of fresh California produce became popular and more profitable, competition increased among growers to produce higher quality goods, and to find faster, more efficient ways to dispose of their wares in the expanding marketplaces of the East. Coastal packers began advertising campaigns in eastern newspapers and experimented with printed materials at the retail level to stimulate fruit sales. These methods soon proved very successful and became widespread. Packers soon found that they had to devise new and more clever ways to get the buyer's attention, and advertise the product amid the increasing sales competition in urban regions. Packers also found that it wasn't only labels and advertising materials they needed, but stationary, office supplies, fruit wrappers, paper packing supplies, accounting materials and the like.
FOUNDING THE WESTERN PRINTING INDUSTRY
The first place these men turned, was to the fledgling printing, engraving and lithographic industry, in San Francisco, Los Angeles and Seattle. Many of the founders of these firms were of Germanic descent, and Germany being the leader of printing in the world at that time, these men brought many skills to the struggling West. Between 1870 and 1900, several printing companies had established themselves as high quality printers and lithographers and enjoyed their hard earned reputations, especially the Schmidt Lithograph Company. Only a few years before fruit packers began needing labels in large supply, wine- makers, salmon canners and fruit canners, who dotted the coast, had been relying on these same printers for their printing needs. As agriculture grew and found its success, so, symbiotically, did the young lithographic trade. Hand in hand, these two industries helped each other toward success. The brightly colored, attractively designed label soon developed into the chief device for drawing attention in the wholesale produce markets. It was almost completely upon the success of the crate-end label's reputation for quality, on which the grower's livelihoods depended. Such was the drama played out, in the fast-paced shuffle of far-off auction halls and commission markets, and in the corner stores of America's cities that the label did its job -- in the places where the product met the ultimate consumer.
By their very nature, these millions of labels reflected a graphic social history, an agricultural history and lithographic tradition in The West. As shipping practices changed, so did printing techniques. As culture in The West and throughout America changed, so did the subject matter of the label images. Since the fruits were individually wrapped in tissue and packed inside a wooden crate, the label became the "window" by which the quality of the product could be seen. The more vivid the image, the stronger the impact. The higher the quality of fruit, the more successful the brand became. Brand recognition was the name of the game.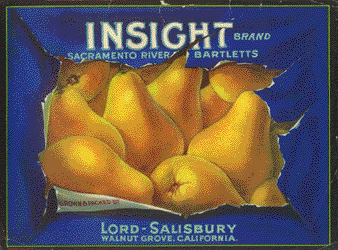 LABELS BECAME THE "WINDOW" BY WHICH THE PRODUCT COULD BE SEEN
Marketing organizations set up guidelines for growers who shipped through them, and allowed them to use their exclusive logos. The most famous of which were the "SUNKIST" wrapped orange, and the "BLUE ANCHOR" of the California Fruit Exchange, but many logos were widely used. Washington state's apple packers widely used the "SKOOKUM" logo for their cooperatively marketed apples, pears and other tree fruits.
ADVERTISING BY NECESSITY
Some accounts suggest that William Wolfskill's son, Joseph, used the first labels on a shipment of oranges to St. Louis in 1877. It is not known whether labels were used on these crates. It is possible, that no one will ever know who used the first label or when. But, scholars agree (so far) that 1884-1885 was the earliest provable date for label use on fresh products shipped by rail. The Transcontinental Railroad was completed at Promontory Point, Utah at the Golden Spike ceremony on May 10, 1869. According to the records of the California Fruit Exchange, in 1870, some 70 full cars of fruit were shipped East, and by 1871, 115 cars, mostly pears, left the state. Perhaps these crates didn't bear labels either, or, perhaps some did. The first labelled agricultural products shipped in this way were dried goods, raisins, nuts and fresh oranges from southern California, and canned goods heading for the silver mines of Nevada. These products may have gone out of state, with labeling, as early as the 1860s. Since dried fruit is a fresh agricultural product packed in a small wooden crate, these may be the earliest "fruit crate labels." Lemons, grapes, apples and many varieties of fruits and vegetables were soon to follow, some packed in crates, some packed in sawdust-filled barrels. Another account says that W.J. Wilson of Newcastle in Placer County shipped the first full carload of fruit out of the state in 1871, and very well may have contained oranges. He was also a very successful grower and used labels very early on. In any case, the verdict is not in on the credits for the earliest uses of labels. The history of agriculture on the West Coast is an immense one, intertwined with claims and speculation, fact and conjecture. Railroad history plays the most important role in early shipping of any kind from the Pacific Coast. We may never know who used the first label or for what kind of product, nor, what printer printed it. But, there are many things about labels that are known.
Labels exist for nearly fifty commodities, with dozens of varieties of each. Tens of thousands of individual brands were created for growers in California, Oregon, Washington, British Columbia, Nova Scotia, Idaho, Montana, Colorado, New Mexico, West Virginia, New York, Arizona, Florida, Georgia, Texas, Alabama, Louisiana and many other agricultural states. Nearly half the states in the union practiced labeling agricultural products in wooden containers for sale nationally or for export. Practically, wherever commercial food was grown, anywhere in the world, labels of one size or another were created to help sell it. Fruit crate labels are probably the most widely circulated art-form in human history.
ARTISTIC COMPETITION AMONG PACKERS
Brand titles and artistic images, were classified in many ways. Sometimes the shipper's name was used, portraying an air of confidence about his product. One example might be "Hopson's" Brand Oregon apples, or "Dahlberg Brand" Sacramento River Bartlett pears. Other growers and packers tried geographical names, such as "Placerville Tahoe Brand" or "Ventura County Maid." Another class of titles were "high quality" words, such as "King's Taste" or "Apex," or "Progress." Many label themes often followed cultural pastimes, or athletic pursuits. Science and technology, outer space, horses, birds and nature, aviation, and transportation were among the myriad of topics. In an attempt to be different, label designers would offer brand-names that were artificially coined, like "Ataboy," "B-Wise" or "4U". One popular label of the time was "DOG-ON-GOOD" Brand pears, which featured a young puppy resting on a couple of pears.
Nearly all paper labels of this type, were produced by San Francisco's tremendous lithographic industry. From 1872 to 1972, more than fifty printers in San Francisco and along the West Coast (from B.C. to L.A.) contributed their shares to the phenomenon. Some of them for only a few short years, others for over a century. During the heyday of "agri-lithography" (as it has become known), printers like Schmidt Lithograph Company, Traung Label Company, Ridgway Lithograph Co., and others, turned out literally billions of these "case-end" labels. Only in a limited degree, did Eastern lithograph companies create labels for Western growers. The most active of these was Simpson- Doeller of Baltimore, Maryland, who concentrated one sales office on the Washington apple industry and Northwestern canners. Stecher Litho. of Rochester, New York, and the United States Printing and Lithograph Company of Ohio, were also among the few Eastern concerns to fill the needs of western fruit packers.
---
TO CONTINUE ON ... <CLICK HERE>