fruitcratelabels.com
"Thousands of Fingers:
A tribute to Steely Dan"
---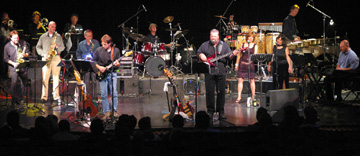 The Center for the Arts presents A COMMAND PERFORMANCE!
Objects in the Mirror re-perform: "Thousands of Fingers: A Tribute to Steely Dan"
Saturday January 8, 2005 -- One Show Only!!! 8:00PM Tickets are $18 (Benefit for the Center)
(SEE BELOW FOR SHOW REVIEWS)
They're BACK by popular demand! Objects in the Mirror returns to The Center for the Arts in Grass Valley to reprise their tribute to one of rock's most challenging and adventuresome bands - Steely Dan. Their first benefit show in October, for the Center for the Arts, sold out to a standing room only capacity crowd, and brought standing ovations for this more than two-hour show. The show included 24 tunes from thirty years of Steely Dan albums and CDs performed faithfully by a 13 piece concert band.
"Thousands of Fingers: A tribute to Steely Dan" --- Featuring Objects in the Mirror, the Major Dudes Horn Section, with Grant Reeves and Lee Elderton, Paul Trethewey, Michael Bankston, Walter Webb and Glen Smith. Plus, the Babylon Sisters on vocals: Lorraine Gervais and Beth Moore Haines. Saul Rayo is the Emcee, with horn arrangements by Paul Trethewey, Glen Smith and Jerry Grant!
Join us Saturday evening, January 8, 2005 at the Center For the Arts, 314 West Main Street, Grass Valley, CA 95945 530.274.8384 Info. Tickets for this show are $18.00 and are available online NOW, and from the Center's box office. Tickets from other regular outlets will be available starting about December 24th or so. Call for more details and to reserve your seats! Only 300 seats are available, so get your tickets fast!
"This show began as a lark, when in 2003 our keyboardist Bob Villwock suggested we do a 'musical costume' for Halloween. When ask what band he would cover he said 'Steely Dan.' The problem was we were in production of of our DRIVE CD and couldn't put any time into that. Then in January of 2004, we did a tribute to Paul Simon with Saul Rayo as a benefit for the Center for the Arts. At that time the Center asked us to book some dates, so we booked our CD release and the 'steely' show as a halloween prank. However, when we actually started planning the show, it turned into a 24 song history of the group with two female vocalists and a six-piece horn section. On the night of the gig, it sold out to 350 standing-room-only guests. In the following weeks, so many people called about not seeing the show, that the Center ask Objects in the Mirror to 'do it again.' It was a wonderful surprise to us. We had only planned to do the one night."
http://theunion.com/article/20041021/PROSPECTOR/110210109/-1/THEMES32
OBJECTS IN THE MIRROR are:
DRUMS AND VOCALS-- MARK MCCARTNEY
GUITAR AND VOCALS -- PERRY MILLS
PERCUSSION -- KIT BAILEY
KEYBOARDS AND VOCALS -- BOB VILLWOCK
BASS AND LEAD VOCALS -- PAT JACOBSEN (Producer)
"THE BABYLON SISTERS"
LORRAINE GERVAIS from Diva's Diversion
BETH MOORE HAINES from Real George
THE "MAJOR DUDES HORN SECTION"
GRANT REEVES - SAX (from Sacramento)
LEE ELDERTON - SAX (from Sacramento)
PAUL TRETHWEY - SAX and horn arrangements
GLENN SMITH - TRUMPET and horn arrangements
MIKE BANKSTON - TRUMPET
WALTER WEBB - BARI SAX
GUEST ARRANGER: JERRY GRANT
EMCEE: SAUL RAYO
REVIEWS:
"I have the good fortune to be able to bring a lot of very talented bands to Nevada City at Cooper's Saloon and I have to say that Objects In The Mirror can hold their own and then some with any of those acts. In fact their recent Steely Dan Tribute put a major big smile on my face. I hadn't heard many of those songs in way too long and with the additional full horn section and backup singer treatments, well trust me these guys would have made Fagen and Becker damn proud. If you saw their last sold out show then you obviously know what I mean, if you happened to miss it, make a point to go see the next one, you won't be disappointed!" --- Mikail Graham (Entertainment Manager Cooper's Saloon & Radio Host)
"This show was Great, Fun, and I was thrilled to be there. It was the best time I've had in a long, long time. If you like Steely Dan, you should catch this show. Be there or be square." --- Mike Thornton (Nevada County Radio Personality)
"Cerebral energy, precise rhythms, a reality which hangs like an aura around your stereo.' This has been said of Steely Dan. These are the same words I would use to describe the band Objects in the Mirror who's chordal voicings and facility of harmonies brought delight to the sold out crowd at the recent concert at the Center for the Arts. What a beautiful
interpretation of Steely Dan's music." --- Keith West (Radio Host, No. CA Jazz Fusion Show)
"Guitarist Perry Mills has the kind of pinched metallic tone that made Larry Carlton's solos on such [Steely] Dan staples as Green Earrings a delight, and the rest of the quintet has a good feel for what made the Dan's weird, jazzy chord progressions work." --- Jackson Griffith, (Sacramento News and Review )
"Three years ago five gifted musicians forged their musical talents. The result is a breathtaking jazz fusion band that's perhaps the hottest sound up this way. Guitarist Perry Mills and bassist Pat Jacobsen, both prolific writers, have amassed a stable of creative originals seething with improvisation and spontaneity set in a grooving background cast by drummer Mark McCartney. Add provocative percussion by Kit Bailey and the impeccable keyboards of Bob Villwock and you have a formidable wicked blend of magical jazz." ---Vance Sauter, (Auburn JazzFest.)

(Last update: )