Welcome to Pat Jacobsen's
FRUIT CRATE LABELS (dot).COM


If you love labels, you have arrived! This site contains many hundreds of pages of detailed information, illustrations, current prices, the text from my books on label history and values, plus, lists of labels for sale, links to other resources and other fun information about label art. This is the Internet's most authoritative label-art site, maintained by 30 year veteran label historian, collector and author Pat Jacobsen. This site provides visitors everything anyone would want to know about every facet of label collecting, especially advice about selling YOUR labels, what they are worth, and how to establish insurance values for them. We also have the latest books and reference materials available for collectors and enthusiasts, and are a safe and dependable source for qualified information on values for every kind of label! After thirty years of dedicated, full-time research, I am happy to offer you any information you may want or need. Welcome!! -- Pat
PLEASE VISIT MY NEW ENDEAVOUR:
2008 CLEARANCE SALE! Some great deals on eBay and onsite
Click here for unbiased Customer reviews or Seller Profiles about me on

SELLING YOUR LABELS
If you have labels to sell, learn about the values of YOUR labels by reading this first!
<How to sell your labels> And, what "condition" means. Here is all you need to protect yourself from dealers who might take unfair advantage of you, and become educated quickly on the realities of the label "business."

Here are some "Qwik-Links" to this site's primary areas. Email me if you have any questions whatsoever and I will happily respond. Have Fun! Scroll down further for anything you are looking for!



(If your email to me is returned, it may be because of a spam filter. Please call me at the number below and i will be happy to help any way I can!)

Here's Pat with Martha Stewart on her national show!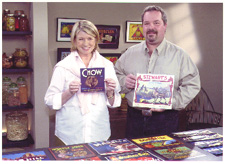 And, here are links to the newest books available about labels (and other subjects I enjoy!)
"Arigatoo! The Sushi Lover's Companion"
< click here for details > AND
"Extra Fancy -- The Label Art of the Pacific Northwest!"
<CLICK HERE FOR THE FULL STORY!>

Also: "PAT JACOBSEN'S MILLENNIUM GUIDE TO FRUIT CRATE LABELS"
(soon to be revised into "Pat Jacobsen's Guide to Label Collecting" for release in 2008)
AND, Other new books available to collectors <CLICK HERE for all the details!>
---

"WELCOME," NEW VISITORS!!!
Original Crate Label Art and Agri-Lithographic History


"What is Fruit Crate Labels (dot) Com?"
"Fruit Crate Labels (dot) Com" is a web site devoted to the collecting of beautiful, old, lithographic advertising for fresh and canned foods and agricultural products of the past 150 years. The site itself, is seperated into Departments, which serve many aspects of collecting. Everything here is brought to you by "Pat" Jacobsen, a 27-year career California and Pacific Coast historian specializing in western agriculture, global label use, California printing and lithographic history, and one of the most-recognized leading collectors and historians on labels. This site was born on May 22, 1997 and is evolving. Please bookmark and revisit often to see how it develops and let us know how this site can better serve your needs. Thanks!!! pjacobsen@fruitcratelabels.com
I Buy Labels -- singles and collections! (click here for qualifications: I Buy):
If you have labels to sell, trade, or need an appraisal for, or desire to have auctioned to the greater collecting community, please let me know, and I'll be happy to help. I buy collections or singles. For more immediate assistance, you may call the number located at the bottom of this page, and I can help you over the phone. Or, please email your inquiries through this link: Contact Pat directly. Click <here> to learn about our buyer, Pat Jacobsen. I have 30 years of credentials, books and price guides I have authored, and a collecting network of over 3,000 interested friends.
Also Spanish Citrus Labels: (Solicitar: Etiquettes / marcas de los cajones de las Naranjas y fruitas de Espana!) y Chile, Argentina y Mexico. Muchas Gracias!
What are Fruit Crate Labels?"
Since all fruits and vegetables were originally shipped in wooden crates, labels were needed for the ends of each crate to identify its contents, place of origin and to catch the eye of buyers with interesting graphic images. Beginning on the Pacific Coast of America in the mid-1880s, crate labels became America's largest innate art-form, advertising countless millions of boxes of fruit to consumers across the nation and around the globe for the past 130 years!

The largest producer and user, by far, was California. But Washington, Oregon British Columbia, Florida, Australia and New Zealand, and other countries also contributed to the phenomenon. However, in the mid 1950s, due to War shortages and changes in packaging technologies, labels were no longer necessary for most of the produce industry, as pre-printed cardboard boxes replaced the older wooden crates. Some labels are still used today (2006) but only a small fraction of the numbers used before the 1960s.

More than 100 printing and lithographic companies created labels for food packers in more than thirty American states. Similarly, several other countries have used labels of their own for decades, like Spain, Italy, Canada and Australia. Worldwide, countless billions of labels have been circulated since the 1880s. Yet, somehow, miraculously, thousands of labels have been found in varying quantities, enough for collectors to appreciate from far and wide. Adn, that is why label collecting is so fascinating. Because nearly all the collectible labels available today, are here by accident. They were printed, but never used, and so they sat on shelves of old warehouses for decades, until discovered by collectors. Label collecting as a hobby began in earnest along the Pacific Coast in the mid-1970s, and has blossomed ever since, although many people have collected labels as far back as the 1880s! For a glossary of label terms <click here>
Labels For Sale are in the: The Sample Room (click here: Samples):
Is our online catalog for sales of authentic, collectible labels - a virtual label "cyberteria." Never dealing in reproductions, only the real thing, leftover, unused labels from a bygone era. All labels sold by Pat and this site are Guaranteed Original, and are in excellent condition, unless noted. The Sample Room Catalog will offer sales online of myriad rare label titles. If you are interested in buying labels, visit the Sample Room. I have thousands of labels in stock, not shown in the Sample Room. So feel free to contact me with any request you may have, at: patj@fruitcratelabels.com.
Crate Expectations Publishing (click here: Cratex):
Offers books for sale about labels, label collecting, price guides and lithographic history. Soon to include multimedia presentations, videos, CD-ROMs, a subscription-based image library other interactive productions. For info: patj@fruitcratelabels.com
Pat's Packin' House (click here: Patpak):
Offering Nuveaux gift items bearing nostalgic images, such as posters, postcards, refrigerator magnets, computer mouse pads, calendars and other new products bearing classic images. Contact: patj@fruitcratelabels.com
FCL.Com Digital Trading Co. (click here: trading):
Offering image licensing opportunities to publishers, graphic artists and product manufacturers. We also offer graphic arts and custom label design services. patj@fruitcratelabels.com

Fruit Crate Labels (dot). Com,
P.O.Box 791,
Weimar, CA 95736-0791 U.S.A.
530.637.5923 CA time
©1997-2008 Thomas P. "Pat" Jacobsen * All Rights Reserved
<Privacy Statement> (Page Update:February 2008)